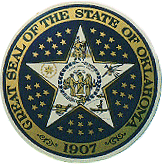 OFFICE OF GOVERNOR FRANK KEATING
STATE OF OKLAHOMA
State Capitol Building
Oklahoma City, OK 73105
FOR IMMEDIATE RELEASE CONTACT: Dan Mahoney August 9, 1995 405-523-4219
---
GOVERNOR KEATING NAMES RICKS CABINET SECRETARY FOR SAFETY AND SECURITY
Oklahoma City-Governor Frank Keating today named Bob Ricks of Edmond as Cabinet Secretary for Safety and Security. Ricks also was named Commissioner of The Oklahoma Department of Public Safety.
"I am thrilled to name Bob Ricks to these important positions. He has a very impressive record in law enforcement and I think he will do a wonderful job as cabinet secretary and DPS. Commissioner. We are lucky to get him, " Governor Keating said.
Ricks, 50, currently serves as Special Agent in Charge of the Oklahoma City FBI Field Office. He is retiring after a 26 year FBI career.
"I am excited but have mixed emotions. I will miss working with the fine professionals at the Bureau, but this offers me an opportunity to work in state law enforcement and be able to stay in Oklahoma. That is something my family and I felt was important. I look forward to working with many outstanding professionals at the DPS. I consider this a huge challenge. My goal is to make the Oklahoma DPS the finest law enforcement agency in the nation," Ricks said.

Return to Governor's Information Forum