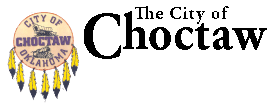 "Celebrating the Past, Enjoying the Present, & Preparing For The Future."


Choctaw Town Square
Objectives:
The purpose of the project and TIF District is to support the economic development objectives of the City in order to:
A. Attract major investment in the area
B. Serve as a catalyst for retaining and expanding employment in the area
C. Promote economic development to increase tax revenues , raise property value, and improves economic stability
D. Preserve and enhance the tax base
E. Make possible investment, development and economic growth which would otherwise be difficult or impossible without the project and the apportionment of ad valorem and retail sales taxes from within the increment district.
Documents:
The Development of the Choctaw Town Square is detailed in the narrative document that can be found here: Town Square Economic Development Plan
Images:
TIF District Boundary
Animation (Click on the image above to view the animation of the Town Square Development)