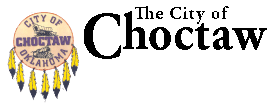 "Celebrating the Past, Enjoying the Present, & Preparing For The Future."


Education
For information on CNP public schools please visit www.cnpschools.org/
Residents of Choctaw receive instruction from the Choctaw-Nicoma Park Public Schools, providing high-quality, well-planned educational experiences within a contemporary and rich curriculum.  Thirty percent of the district's teachers hold a Master's Degree or higher, and each school operates a modern Library Media Center.
Standardized test and A.C.T. scores are consistently above the state and national averages.1
Here, high school students are frequently named National Merit Scholars, National Achievement Scholars, State Regents Scholars, and Academic All State - making Choctaw an excellent place to live and send your children to school.
Choctaw is privileged to offer superior choices in continuing education at nearby colleges and career techs such as Eastern Oklahoma County Technology Center and the University of Central Oklahoma in Edmond.