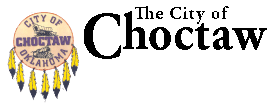 "Celebrating the Past, Enjoying the Present, & Preparing For The Future."


Veterans Memorial at Choctaw
Paying Tribute To Those Who Served: 
Military Retirees, Former Military, Guardsman, Reserves, DoD Civilians, and Those gone, but not forgotten.
The Veterans Memorial at Choctaw is planned to honor our service men and women of all time and to pay special tribute to those persons on the home front in defending our freedom. We have hundreds of people like Linni Hefner who went to work at Tinker Air Force Base at age 50, and continued to support our military until forced into retirement at age 70. A major fundraiser for this project will be the sale of Memorial Bricks. These Bricks will be placed in the Memorial Walls, to permanently remind our friends, family, and community, of the efforts made by each individual to protect our freedom.  
Please click on the image of the brochure below to download the application form.