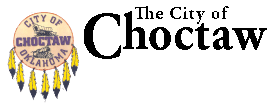 "Celebrating the Past, Enjoying the Present, & Preparing For The Future."


The Commission serves as an advisory board to the City Council on matters concerning planning and zoning issues in the City of Choctaw. The Commission reviews the City's Strategic Plan, conducts public hearings for zoning issues, and recommends approval/disapproval of zoning changes, text amendments and subdivision plats to the City Council. The Commission has final approval of short form subdivisions (lot splits).
The Planning Commission meets the first Thursday of each month at 7:00 p.m. at City Hall.
The following individuals were appointed or re-appointed to the City's Planning Commission by the City Council to serve a three year term. These are citizens who take an avid interest and pride in Choctaw, who get involved by giving unselfishly through volunteering their time and energy in order to make Choctaw "a better place to live."
If interested in serving on this board please fill out the application linked here.