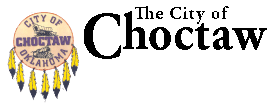 "Celebrating the Past, Enjoying the Present, & Preparing For The Future."


Choctaw has been governed by the Council-Manager form of government since 1973. Seven citizens serve on the City Council with six elected by ward, and the Mayor elected at large, each for a four year term.

Effective August 7, 2012, the Council meets on the 1st and 3rd Tuesdays of each month with pre-meeting beginning at 6:15 p.m. and the regular meeting beginning at 7:00 p.m. The City Council chambers are located at Choctaw City Hall, 2500 North Choctaw Road.
| Council Highlights | 2009 Choctaw Ward Map | Current Picture |
Council Members
Mayor Randy Ross
Ward One Ron Bradshaw
Ward Two Jerry Bower
Ward Three Jeannie Abts
E-mail: ward3@choctawcity.org
Ward Four Roger Malone (Vice Mayor)
E-mail: ward4@choctawcity.org
Ward Five Steve Krieske
E-mail: ward5@choctawcity.org
Ward Six Larry Goeller
E-mail: ward6@choctawcity.org
To send an email, please click on the council members name or type the email in.
Questions about meetings, agendas, or minutes can be directed towards the City Clerk.