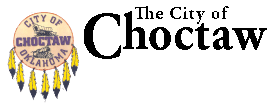 "Celebrating the Past, Enjoying the Present, & Preparing For The Future."


Departments
The City of Choctaw operates from 5 campuses throughout the City. City Hall is located at 2500 North Choctaw road, and is the hub of all public activity for Choctaw residents. The Choctaw Police Station is located at 13240 NE 23rd Street. The Fire Department operates from 14181 NE 23rd Street, and Public Works operates from Choctaw Creek Park and the Choctaw Business and Industrial Park which is the site of the maintenance facility and sewage treatment plant.
Located within City hall are;
Administration, the office of the City Manager.
405 390-8198
Utility Billing, which handles all water, sewer, Storm Water, and trash billing.
405 390-8198
Municipal Court, where fines and court fees can be paid.
405 390-8198
Public Works - Engineering, where street, and utility maintenance is conducted.
405 390-8276
City Planning, where zoning and comprehensive plan information can be obtained.
405 390-8198
Development Center, where building permits and inspections are accepted.
405 390-8198
Parks and Recreation, where pavilion rentals, events, and general information can be found.
405 390-8198
Code Enforcement, to report high grass and weeds, derelict vehicles, trash and debri, etc.
405 390-8300