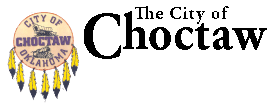 "Celebrating the Past, Enjoying the Present, & Preparing For The Future."



Planning and Zoning Phone number 405 390-8198


City Planning
City of Choctaw 2007 Land Use Survey Results
The 2007 Land Use Survey results can be downloaded here.
Choctaw Comprehensive Plan 2011
The updated chapters of the Choctaw Comprehensive Plan are now available for public comment until May 10th, 2011. Please review the documents attached in the links below and write comments on the comment form.
Transit.pdf (357kb)
Land Use.pdf (7.01MB)
Infrastructure.pdf (29.2kb)
Comment form.pdf (83.2kb)